The term 'Anywhere Worker' has come to define the new generation of workers who won't be tied to any one place. This ebook offers a list of the best work from anywhere careers and remote work jobs for digital nomads, travellers, and freelancers. Some of these work from anywhere jobs require few skills and no experience.
You'll learn about the benefits and disadvantages of working from anywhere and access a list of work from anywhere jobs and companies to help you earn money from that hammock on the beach. You CAN work from anywhere in the world, as long as you have a laptop and Wifi connection and this eBook will show you how.
Here are the topics covered in this ebook:
• The Pros & Cons Of Work From Anywhere Jobs
• What Investment Do You Require For Work From Anywhere Jobs?
• Avoiding The Scams
• A List of Legitimate Work From Anywhere Jobs
• A List Of Work From Anywhere Job Boards
This book has been incorporated into my Work From Anywhere course. Download my free Work-From-Home Checklist and learn how prepared you are to start working from home.
Pin and save for later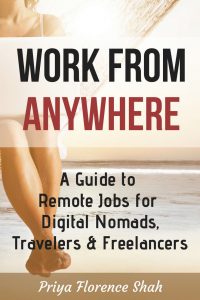 Want some awesome freebies?
Subscribe to blog updates
Subscribe Me!
Subscribe and get my awesome freebies to boot.
Enter your email and first name so we can keep in touch
100% privacy. I will never spam you.
100% Privacy. I'll never spam you.