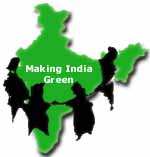 Most of us don't consider ourselves "green." We have neither the time nor the inclination to write catchy slogans, picket polluting industries, or campaign against dam-builders. But that doesn't mean we don't care about having cleaner air to breathe, healthier food on our table or a safer future for our children.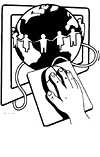 Do you feel you're too small to make a difference? Look at what happens when a tiny ant tries to move a large insect. It fails, of course. But then another ant joins in. And another. And another.
Till they become a huge army, that can move a giant. In a country that's home to one-sixth of the world's population, that's a mighty army we're talking about.
The people who lick envelopes once a month, the people who attend a demonstration, the people who send a letter to the prime minister, the people who sign a petition - these are the people crucial to a successful movement.
And it all starts with a single voice. YOUR voice. Become that voice now! Join us in making India green.
| | | |
| --- | --- | --- |
| | Steps for Personal Action | |