Reinventing the Inventors
It was a typical, hot Indian summer. Arvindbhai lay on his bed burning with fever, and thinking as he often did of the solution to problems. This time the one that vexed him was how to cool water. In the torrid heat of the Indian summer, cool water is a priceless commodity. But those traveling and living in the rural areas know that with summer comes erratic power supply. The ubiquitous earthen pots prove ineffective once the mercury rises beyond a point. They are also not suitable for public use. Water coolers are expensive and require electricity. How can I design something that is not very costly, provides cool water, consumes less energy and does not require much maintenance, Arvindbhai asked himself. Not an unusual question for one who is a trained mechanic and inventor of sorts.
His wife came in to apply a bandage soaked in cool water to his forehead. As the bandage soothed his fevered brow, it struck him. The summer heat itself would cool the water! And it would not require any energy input other than the heat lost by evaporation. Today Arvindbhai is the proud inventor of a "natural water cooler" (see image below) - a device that, based on the principle of evaporation, cools water by almost 5 to 10 degrees in 15 minutes, without using any kind of non-renewable energy.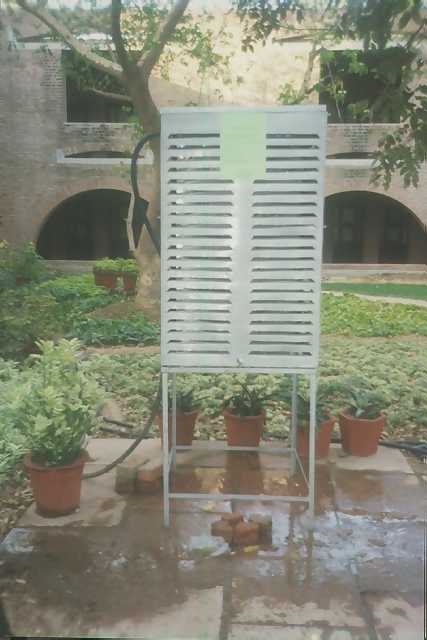 Like so many other inventions in India, Arvindbhai's water cooler would have languished had it not been for organisations like Gujarat Grassroots Innovations Augmentation Network (GIAN) -- an initiative of the Government of Gujarat, the Indian Institute of Management, Ahmedabad (IIM-A) and Society for Research Initiative in Sustainable Technologies and Institutions (SRISTI). In order to take Arvindbhai's invention to the market,GIAN carried out a technology valuation exercise for the state of Gujarat and developed a valuation model. The device was further improved on by GIAN with the help of IIT-Mumbai and GEDA.
Their efforts have resulted in a technology transfer agreement - the first of its kind in India - where the rights to manufacture and sell a grassroots technology was bought for an entire state by a local entrepreneur. M/s Nature Products will pay Arvindbhai the sum of three lakh rupees for the rights to manufacture and market the Natural water cooler in the state of Gujarat. It was not always so for Arvindbhai, who was once so much in debt that he was forced to sell his workshop.
But there are many more unrecognised Arvindbhais, across the rural hinterland, whose inventions have yet to receive the recognition they deserve. After seven years of working in 5500 villages primarily in Gujarat, Sristi has found a wealth of grassroots innovations, numbering 10,000, that it has catalogued in a database and shared in a newsletter, Honeybee. The newsletter now reaches about 75 countries, is published in six Indian languages as well as English and Spanish, and includes innovations from Mongolia, Vietnam, Uganda, Kenya, Colombia, Ecuador and North America.
The Honey Bee Network, set up by Anil Gupta, a professor at the Indian Institute of Ahmedabad and his colleagues, felt that rewarding the grassroots people for their creativity should look beyond the mere recognition and documentation of their knowledge. It should also aim towards the commercialization of viable innovations, so that their benefits are disseminated over a broader spectrum of the society and the motivation to innovate further is sustained.
GIAN was set up as a Green Venture Promotion Fund to enable the rural innovators to link themselves to formal systems of marketing, technical and financial services. Now GIAN is helping grassroots innovators reap the benefits by patenting and investing in various creations on behalf of inventors like Arvindbhai. GIAN's list of achievements include setting up the first grassroots innovation-based fully functional manufacturing plant for small sprayer and conversion of seven rudimentary innovations into product prototypes, namely tilting bullock cart, motorcycle-mounted sprayer, hand-operated sprayer, 12.5 HP tractor, first cotton stripping machines, polybag filter and an innovative pulley.
GIAN also recently succeeded in arranging venture investment for a Cotton Stripper machine developed by Mansukh Bhai Patel, that solved an age-old problem of separating kernel from local cotton varieties for farmers. In a short period of four months Mansukh bhai returned the principle investment along with an annualized rate of return of 30 percent.
The Honey Bee Network, GIAN and SRISTI were able to prove that a small investment in grassroots technology has the potential of providing excellent returns. GIAN also plans to set up India's first Micro Venture Fund dedicated to grassroots innovations - the Shodh venture Fund Limited. Last year, the government allocated Rupees 20 crore to create a National Innovation Foundation based on the philosophies and practices developed by Sristi.
India has an opportunity to play a key role in promoting green, grassroots innovations worldwide, says Gupta, who is vice-chairman of the NIF. Sristi's database of innovations is now being transformed into an on-line multimedia kiosk that will help innovators and investors connect across the country.
---
This article was compiled with inputs from GIAN and SRISTI.