Ecotourism is common sense
by Nirmal Ghosh
Ecotourism is a term very liberally used, but with shallow understanding and little real implementation. In the 1980s many debated on how to define the concept; I sat in on a number of conferences in which speaker after speaker said the same things in different ways. In the end, it doesn't matter how you define ecotourism. What is important is that you actually practice it.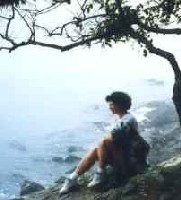 Ecotourism is not merely taking people into an unspoilt wilderness. It is low impact tourism. It is an attitude. It is a sense of respect, a sense of responsibility, and a sense of discipline. Most hotels, lodges and so forth around wilderness areas will call their activities ecotourism. Yet how many, to take one example, would provide water canteens to their guests on modest payment, filling them up from a large mineral water dispenser for every excursion, instead of travelling with a vehicle full of plastic bottles? I haven't come across a single one.
The canteen idea came from Bittu Sahgal (Editor, Sanctuary Magazine) in response to a news item I had circulated on a World Wide Fund for Nature study. I quote from the study, starting with my own note: This issue of 'mineral' water bottles has been bothering me lately, perhaps a little more than usual because now that summer's here and bottled water is so ubiquitous, I see discarded bottles everywhere, including in wilderness areas.
Perhaps the MOEF should look into nudging forest departments to evolve a code of conduct for tourism operators, in which they only use pumped water from a local source for drinking. It just has to be rendered safe, and that can be done in the system itself in many cases. Something like this would definitely, to my mind, make a difference to the load on the local wilderness ecosystem in places where there are significant gatherings of tourists.
I have regularly drunk from forest and mountain streams, yet I too find myself sometimes being lured by bottled water, often merely because of its presence with me, and in spite of being within yards of a stream with drinkable water!
According to the study, Bottled Water: Understanding a social phenomenon, commissioned by WWF, bottled water may be no safer, or healthier than tap water in many countries while selling for up to 1000 times the price. Yet, it is the fastest growing drinks industry in the world and is estimated to be worth US dollars 22 billion annually.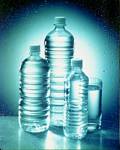 The study acknowledges that while bottled water has the advantage of being generally safer in areas where tap water may be contaminated, boiling or filtering local water renders it safe at a much lower cost for people on a low income. However, according to the United Nations Food and Agriculture Organization (FAO), in terms of nutritional value, bottled water is no better than tap water. It may contain small amounts of minerals but so does tap water from many public municipal water supplies.
The study also finds that every year 1.5 million tons of plastic are used to bottle water. Toxic chemicals can be released into the environment during the manufacture and disposal of the bottles. Furthermore, a quarter of the 89 billion litres of water bottled worldwide annually are consumed outside their country of origin. Emissions of the green house gas carbon dioxide, caused by transporting bottled water within and between countries, contribute to the global problem of climate change."
There is not much point in taking all your plastic mineral water bottles back from a jeep ride in a tiger reserve, when the "resort" you are staying at outside the reserve will just pitch them over the back wall. I have visited many forest rest houses with plastic debris lining the periphery of the compound - a sign sometimes of a lazy chowkidar, but more often of irresponsible visitors.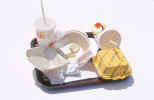 Plastic waste is a huge and growing problem. Goa has a problem with it; so does Mussoorie, where a gentleman called Vipin Kumar has been on a cleaning crusade involving local ragpickers; a model that could easily be replicated elsewhere given the determination. The notion of post-consumer waste management is still in its infancy : manufacturers will probably resist to the last any law forcing them to take back their packaging waste and reuse or recycle it.
Ecotourism doesn't need conferences, it needs common sense. It is an attitude. It means not playing loud music in the wilderness; not leaving litter behind; not disturbing, shouting at, crowding around, chasing wildlife or interfering with wildlife; not interfering with local people and customs; not taking anything material away or damaging the local ecosystem; supporting local industries. It means not exceeding carrying capacity.
Ecotourism means respect for the wilderness, both aesthetically and biologically. Ecotourism means preserving the wilderness experience, not turning it into a Sunday picnic.
My own view, as I mentioned briefly in my note on the WWF study, is that the forest department in India, which controls most wilderness areas, should evolve a code of conduct for tourism operators using their resource, under which the operators will observe certain norms in terms of plastic and waste disposal, local resource use, and behaviour.
Ideally this should be backed up by scientific monitoring of water quality particularly in the area around tourist concentrations, which can easily be done by the local college's biology students, even if they have to come in by bus from a town far away.
Local tourism operators should also designate one or two days a year for a cleanup drive in any area that needs it. There is no point, for instance, in encouraging a code of conduct among tourist resorts and camps on the Ramnagar-Ranikhet road (the entrance to Corbett National Park) if upstream of them, pilgrims at the Girija Devi temple leave a huge rotting film of garbage in their wake on the Kosi river. Sariska, both at Pandupol and at Bandipul where there is mercifully just a small mandir, have a huge garbage problem.
Priests from local mandirs must be educated as well; tourism operators must join forces with the forest department and local students to do this. Those who sign the code should be given a green sticker as a mark of recognition. With growing awareness among tourists - especially those from abroad - it will be more difficult for tourist operations to paper over their environmentally irresponsible practices.
---
Nirmal Ghosh is a Trustee of the Corbett Foundation. He may be contacted at tigerfire@yahoo.com
Web: http://www.indianjungles.com
1/12 Shanti Niketan,
New Delhi 110021
Tel: 011-4104868
Fax: 011-4104816
---